Fly Fishing Wales-Clywedog
Fly Fishing Wales, this is another of those gems in wales, these welsh waters have their own characteristics, Llyn Clywedog is another of those that one must visit as an angler. I had heard a lot about this too but pre Covid lockdown and lifting of restrictions decided to have a boat trip on the water. I have previously been on this water and it was stunning in more ways than one, scenery, fishery, staff, boats, fishing and also the peasant drive past Shrewsbury and into wales. The approach to the fishery is breath taking and I always stop at the top to just absorb the views.
Lyn Clywedog is managed by fly anglers, Russell Owen and Gaz Dixon both fantastic anglers two of the best around on these shores. It is stocked and managed well and the fish quality is superb. Also on its day, it is a fantastic dry fly fishing venue, some 615 acres to keep you busy, it is run by Club Llanidloes and District AA . It is amazingly long and diverse with rugged shorelines but still lends itself to bank angling. The jetty is modern by any standards and the approach to your boat is unique as you virtually get into your boat owing to the individual boat-shaped jetty moorings. This alone is a great help as you don't have to make the usual laboured trips to the jetty and get your kit in.
Anyway, I arrived at the water and having paid, took heed to what they told me about the fish, they were scattered across the middle parts of the reservoir. As it was a pleasant day, I decided to have a chilled out affair being single crewed and no mates.
So as normal, I tackled up a floating line rod with two dry flies, 5ft and 5ft apart(leaders sets ups–Fly Fishing Leader: Beginners Guide to Fly Fishing Tippet Setups – Fly Fishing for Beginners and Experienced Anglers (flyfishing4all.com) . The second rod was a Cortland blue intermediate line with two flies, blob and booby 6ft and 8ft apart, top dropper sunburst blob and the booby a cat's whisker. I gently motored directly opposite the jetty and free drifted across the middle, had two drifts on the intermediate with no offers and didn't see much caught other than some bank anglers. As this was out of bounds, I decided to go to the cages area and the sailing club, a productive area usually. Whilst motoring there I saw a couple of boats fishing near the cages catch, as it was a pleasant day I wanted to be away from then crowds pr the armada as I call it.
So first long drift from the sailing club area towards the cages, I started some 500yrds or 550yds in the middle past the cages. As I got to some 250yds near the cages in the channel, I had a few tentative offers on the Cortland blue. Then a solid lock up and contact was made with the lyn Clywedog (Clywedog Trout Fishing – Llanidloes and District Angling Association – Mid Wales) trout, landed and returned. Several more drifts and I had some fish, although not prolific as my previous visits, I swapped the rod for the dries set and managed just one, disappointing. I was hoping they were on dries but clearly not my dries today.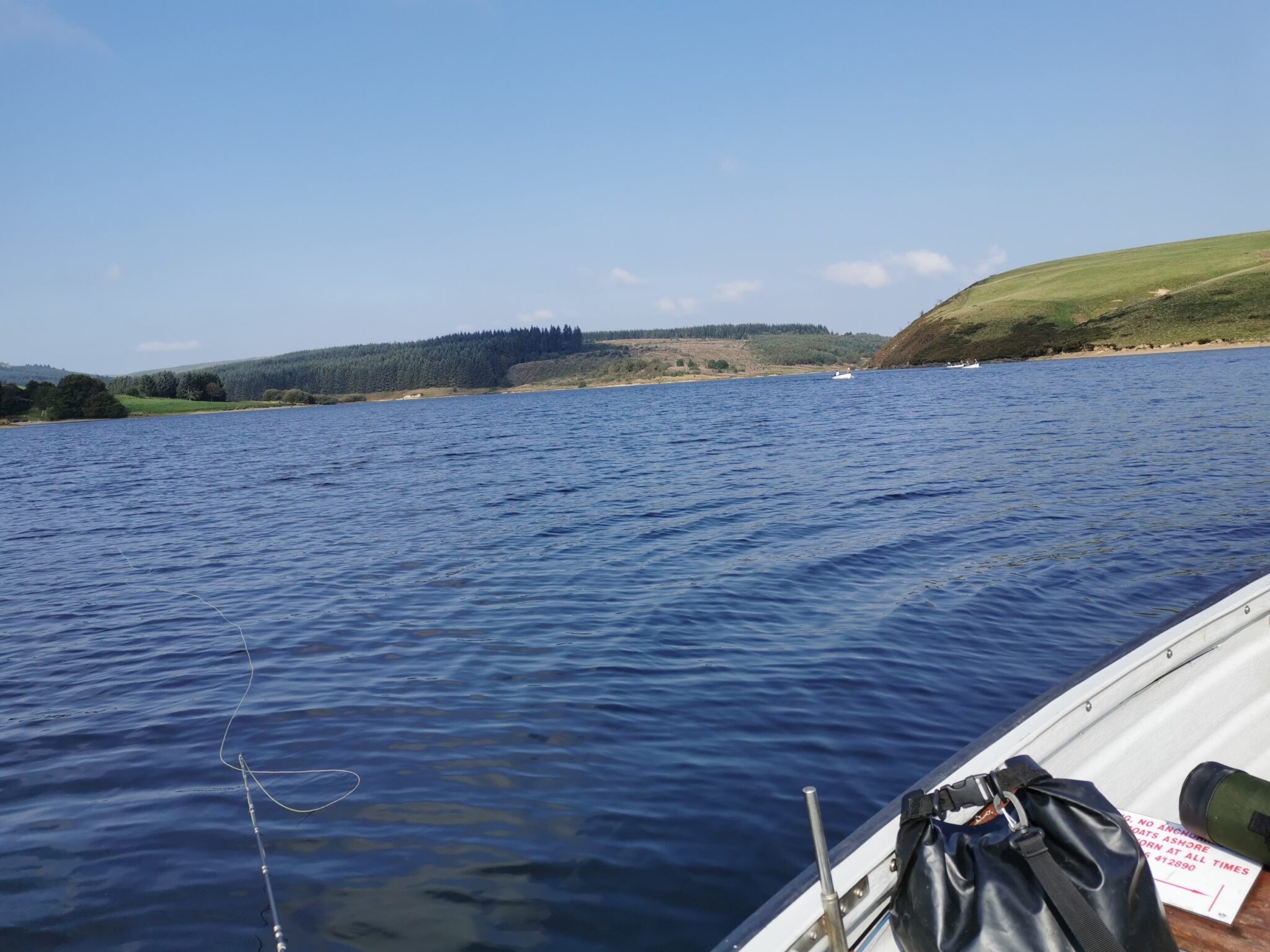 A break for lunch, the civilised thing to do to absorb the stunning water and its views that are majestic and just drift and watch others. Some fish were being caught but most of the action was still near the cages and I wanted a day away from the crowds. Some boats were moving around and that told me it was not an easy day so I just stuck with gentle meandering around free drifting.
After lunch, I motored over to the mouth of the longest arm and fished that for about 30 mins with just another two fish, it was a day to pick the odd fish here and there, a day that match anglers know too well.
After several drifts, I went back towards the sailing and resumed my previous drift again on the Cortland, swapping the flies, changing the sunburst blob for a candy blob. First drift with this change, I had two fish on the candy blob, not deep, I'd say about two feet max. The fish had been high, I thought there may still be more fish deeper down as the wind was cold , so changed lined to DI5 and Di7 for several drifts, expecting a lockup on the hang but they just weren't playing to my tune.
Last hour, swapped back to a fast glass, similar to the Cortland blue but one of my favourites, using the same leader set and up. This last hour brought 3 fish, all in all, it was a testing day but catching fish was still possible, the three came on the cat's whisker booby and a peach booby at the point.
Day over sadly as I had a long drive and on these travels, I like to finish my lunch and have a nice cup of tea in the car park before in inward bound trip. Having done that spoke to some anglers, one boat had a great day by the cages catching double figures around 20 plus. I had not caught as many but nearer the 8 or 9 marks, the biggest around 4lb and mainly in the 2lb bracket. All released successfully to fight another day, the drive back I made the customary stop at the top to admire the views of this Welsh gem. Fly Fishing Wales has some spectacular places for you to visit, try them.
In the words of Arnie, "ILL BE BACK".