Fly Fishing Flies
Fly fishing flies have diversified beyond belief, they can appear to look colourful or simply scruffy but should represent some of the trout feeding targets. A real minefield for the seasoned angler too, never mind the beginner or new entrant.
We are all bombarded with the manufacturers with the new Kit, that comes in a variety of shapes and sizes, colours and packaging to entice us.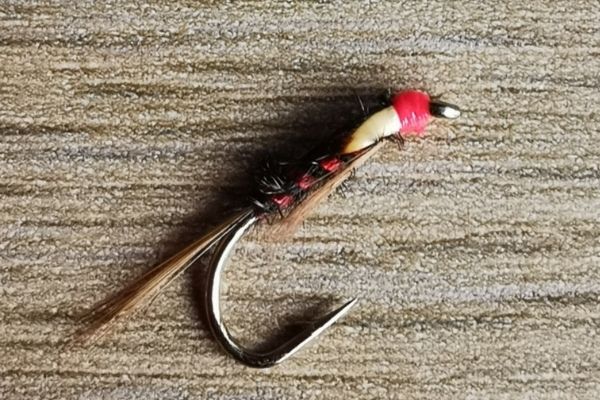 Flies are no exception, there are thousands of different variations, never mind the type. The examples in each variation are Diawl Bach, Plain, Pheasant tail, Holo Red, Holo Green, Holo Blue, Orange Hot spot, Green Hot spot, etc.
A fellow angler once said these words to me, and they stick, "Anglers catch fish, flies catch anglers ". We all like to have what others have, new trends, every pattern, the colour just in case we need them.
Anglers catch fish, flies catch anglers

— Yousef (@Yousef_FlyFish) December 7, 2020
I am going to stick to the main types and some main patterns that are consistent fish takers. These will not let you down.
However, how you fish them and make use of them is a personal art. We can blame the tackle, conditions and fish sometimes. But on other occasions, it is our own fault if we do not catch or not catch as many fish.
I intend to just give 3 or 4 key-patterns in each fly type, or, we could go on all day with the variations. By all means, choose your own favourites.
Lures
These come in various sizes, and also have gold heads, normal beads and non beaded varieties. They are without question a consistent fly to use all the year-round, an ideal fly for new, beginner and intermediate angler. Also, it is important to make sure you fish these in various ways, create movement or even static on some days.
Basic-colours that are a must are Orange, Black, White, Olive and also sunburst or yellow.
These are also straightforward lures, bunny leeches, zonkers, snakes, woolly bugger, and nomads to name a few.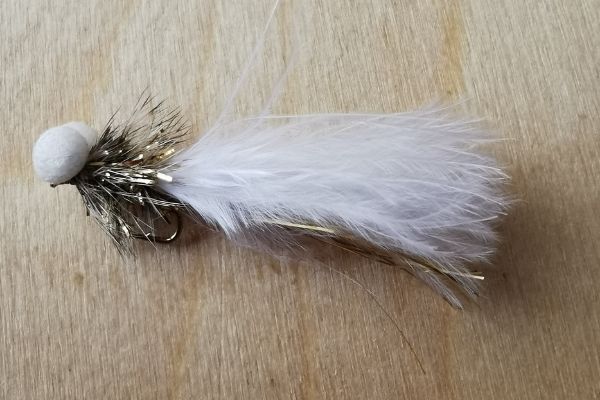 My own advice is stick to simple gold-headed lures, Humongous, bunny leeches and nomads to start with but if you handle the casting use snakes too.
Must colour in all these or named patterns are Cats Whisker with a chartreuse body and white wing or tails, Black Cats Whisker with a chartreuse body, Orange. The cat's whisker is probably one of the most consistent patterns over decades in all its forms, lures, snakes, competition mini lures etc. I would also include the yellow dancer with a white tail, a deadly pattern. If all else fails its worth having one. Also, a more recent introduction, a humongous lure in both black and white with chain beaded head, another go-to fly all year round. I would say just get these two patterns and some plain orange beaded lures, it will save you money, headaches and plenty of indecision.
The olive blue flash damsel is a truly-wonderful lure too at times of damsel hatches.
Boobies
A truly-remarkable modern pattern that is a real fish taker any time of the year in all its form most outlined above, but also on the competition scene.
Boobies are flies with foam, cut around the edges to make large ball shapes, hence the name. They are truly versatile, fish them on their own or as a team, the key is creating movement like with other lures.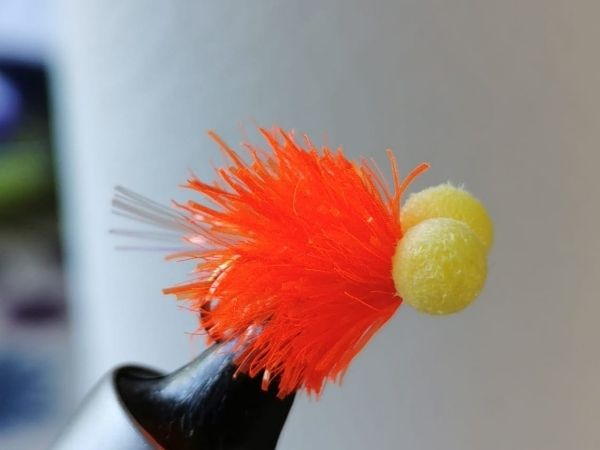 Patterns within these are, Cats Whisker both black and white variants, Humongous both white and black variants. I would also have an orange fritz Blob booby, and a tequila fritz booby, last but not least, a candy booby with a pearl body.
Apps worms
A new variant but another deadly pattern, these should imitate a blood worm. But the size of some is a lot bigger. Nevertheless, they are a fantastic fly, especially on small waters.
I would go for the beaded ones in red, green and pink.
These are incredibly productive early and late season, see my upcoming post re Toft Newton Boat trip that will soon be on the website Flyfishing4all.com on how these can help you catch fish.
Mini Lures
These tend to be lures that are not as long or big, but with no beads.
I will try to stay away from the competition ones as they are different.
Some well-known patterns are viva, cat's whisker, Cormorants, Dawson's Olive, sparklers.
I would just get the cat's whiskers again in both variants, white and black, a viva lure pattern and a Dawson olive. Also a black cormorant, with a red holographic tinsel ribbed body and some sparklers.
Blobs
Along with boobies, blobs are probably one of the most consistent fish takers at all levels. Even in competitions, no angler would be without a few boxes full of Blobs. And they have other variants.
They are supposed to imitate daphnia, the colours are almost infinite as are the materials. I would stick to translucent fritz. And the colours I would recommend are orange, tequila (yellow and hot orange mix), candy (coral and yellow), black and sunburst. Stick to these, and you will not go wrong. Avoid buying for the sake of buying.
They should be fished in a team of two or three, with another blob, booby or even buzzer and nymphs.
Fabs
Fabs are Foam Arsed Blobs, hare blobs with a piece of foam at the tail end and again a new variant of the Blob and boobs. They are very versatile like the booby as they allow control over the sink rate of your flies using the foam.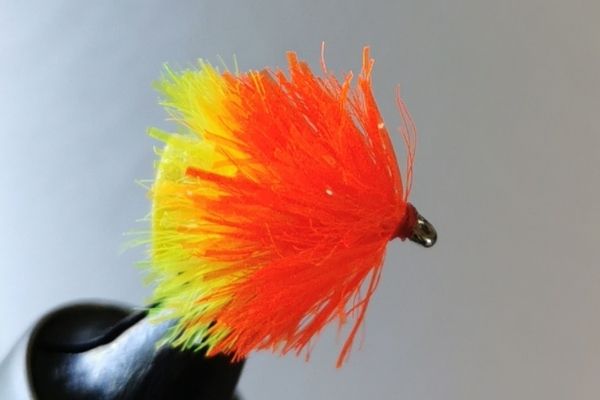 They should be fished in a team of two or three, with another blob, booby or even buzzer and nymphs.
Regarding colours, I would say just mirror the above blob colours, and you won't go wrong.
Nymphs
Probably one of the most enjoyable forms of fishing when you get into these, usually fished as a team straight line of three or washing line with a booby or fab.
There are too many. But I would say just look at having some Red Holographic ribbed Diawl Bachs in size 10 and 12, some Hares Ear Nymph in both sizes 10 and 12, Black cruncher with some cheeks and Nemo crunchers all in size 10 and 12. That should be enough to keep you going as you easily fill boxes of each of the variants, you will get to know them.
Check out my post on fishing at Grafham water to see how I used these deadly nymphs.
Buzzers
Nymphs have a vast array to select from, but you need to be focused and not get hundreds yet, till you decide what you enjoy and what are your best options for your chosen style of fishing. These are fished the same way straight-lining or washing line, great to fish early season around April and May when the hatches are prolific, although you can fish them all year round.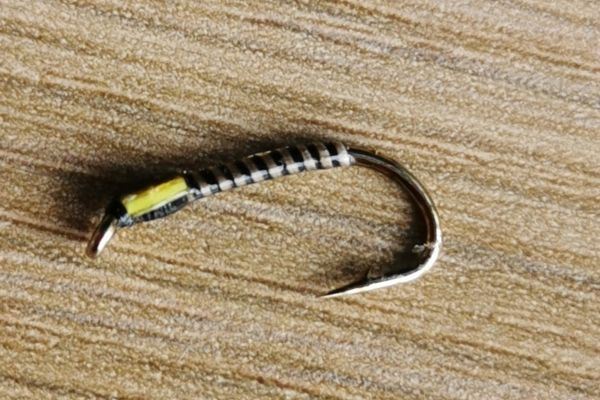 I would suggest you get the black crisp packet buzzer with sunburst yellow cheeks, A black buzzer with red holo cheeks, Red buzzer with yellow sunburst cheeks and an olive one with sunburst yellow, like nymphs, each in sizes 10 and 12.
Dry Flies
Now you are getting into the real thrill of trout fishing. There is nothing better than to see your dry flies being sipped by feeding trout. It's a truly thrilling experience, I hope you experience this.
There are many different varieties once again. But I would suggest the following. Hoppers, in Black, Claret and Ginger, Daddies foam bodies orange and natural tan, Cdc emerging buzzers black or yellow owl and maybe just a Shipmen.
There is enough to get you trying and to learn as fishing dries is really unique. Once again I would advise you get size 10 and 12 for each of the flies mentioned.
You should now have enough ammunition in the fly box to go out and take on the wiery trout, you can add flies along the way but don't go overboard just yet.
Tight Lines.