Chew Valley Trip-At last.
Chew Valley is situated in the Mendip Hills and within easy reach of Bristol or Bath, A west country gem along with Blagdon. This is literally down the road, both lakes are renowned for the quality of fish and fly fishing challenge they pose. However for me, this is about a 3hr drive from Manchester, so if possible I tend to go for a two-day trip.
The lake has both Bank and Boat fishing and also has a very good restaurant in Woodford Lodge. This year and for the last several years it has a reputation of having some huge fish, averaging about 3lbs and the head of 4 and 5lb fish is impressive.
The Trip
Another of the post covid trips to fit into my fly fishing added to the daily demands. I have restricted my trips due to covid and also some more pressing personal issues. However, the Fly Fishing part of my life is hugely important in more ways than one, it is relaxing, enjoyable, physically demanding and also helps with general wellbeing. So another trip that had been planned and delayed for various reasons was now on.
I was going to fish with Ron Howard a local angler and good friend, it's always enjoyable to fish with others. Ron and I have fished together and it's always a fun day in not only catching fish but also the social day. I had also stayed overnight at Ron's place thanks to his generosity as this would break the journey down and make it less tiring. It was great to see him face to face, both of us have been isolating so masks were not an issue and we had a great time fly tying, watching some videos of John Horsey fly fishing trips. Watching these and tying some flies, got us both in the mood.
The Day
As always it was difficult to sleep the night before due to the excitement of going fishing. We decided to have a light breakfast and go to Chew Valley leaving around am 7 . we had intended to have a full breakfast and fish from 10-5 pm. You are also advised to book the boat or bank fishing well in advance and pay for it via the website. We drove down to the jetty and emptied our kit and drove the car back to the top car park as you cant park near the jetty.
We checked at the lodge re-key information that is vital for Fly Fishers, Location, Depth and methods. They were consistent with what we had been told by fellow anglers who had been recent.
Unfortunately for us, the plan of breakfast was somewhat ruined as the lodge starts serving around 9 am. So we decided to set off a bit earlier around 930am after loading up our boat and tackling up. I prefer to tackle up at the jetty in the boat rather than carry my rods when they are set up. The day looked good with winds of about 10-14 mph and rain and drizzle expected after 1300hrs.
Tactics and Location
We knew that the lake had weeded up, something that happens at chew valley during the season but we had enough areas to fish, Stratford, Moreton, The Channel near the cages, Villice and also Herons Bay.
We were also going to Fish to straight-line Nymphing or Washing line with Nymphs, using floating lines or tip lines. Also had consideration for fishing dry flies as Chew Valley is well known as dry fly fishing water too.
So for most of the day, I fished a Snowbee tip line with a mix of crunchers and Diawl Bachs on the top droppers, changing these occasionally to similar flies. The point fly was a sunburst Fab to help with the washing effect. I also tried dries for about 30mins, raised just one fish and decided the weather was not ideal for dries.
Ron fished a floating line or a snowbell buzzer line, he fished the floating line near the weedy areas to keep the flies high and in deeper water using the buzzer line. His flies were similar to mine, a booby and two Dial Bachs or later on Candy with 4 flies, with nymphs, Diawl Bachs and Crunchers.
We had a fantastic day with some quality fish, ranging from 2 3/4 lbs to about 41/2 lbs. The quality of the rainbows was just amazing. I also had a lovely Brownie, see the picture, all the fish were released successfully to fight another day.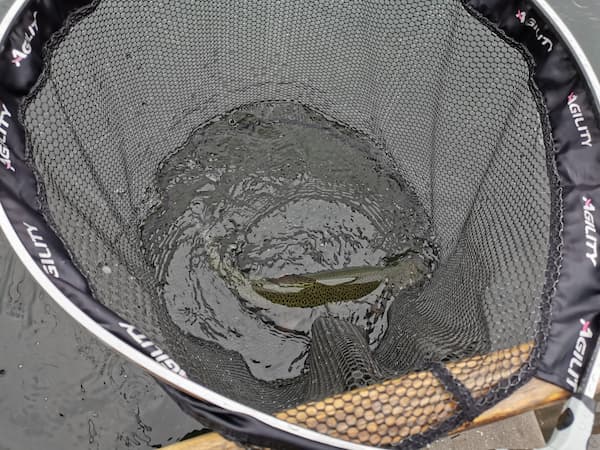 We had fish in almost all the areas we targeted, the method was to keep the flies in the top 2ft of water and twiddle or slow figure of eight retrieve them back. We had loads of follows and takes, the fish were a bit spooky and not easy to catch.
Fishing
We set off for Villice and fished this for a while, there were some boats here but we didn't see anyone catch. A few drifts in and Ron drew first blood, getting a savage take on one of his Nymphs. He landed this rainbow, it was around 4lb of a mean fighting bow. It was released with minimum fuss as we were on a no fish take day. We had a few tentative takes and follows but nothing to shout about. I was fishing my washing line and slow figure of eight when I had a tentative offer, I carried on with the slow retrieve another touch and then a lock-up, the fish was lively and I landed it, a stunning Brown as per the picture. It too was released with ease as Barbless hooks tease off.
We decided to go to Moreton or Stratford upon motoring out of Villice it was obvious how weeded up chew was. Also, a huge part of the lake was like an Island, all weed. We arrive near Stratford and decided to fish at the start of the weeds, a nice long drift towards Moreton and Herons bay as per wind direction, we drifted without a drogue and both had fish along here.
As we got near the tip of Herons, we picked up Fish right near the weed patch near the mouth of Herons. It was obvious we had found some fish, I had a double hook and landed one as the other came off (Thank God). We stayed there pretty much all day doing different drifts along this area and caught fish fairly regularly or had follows. Do not be put off by weed, it holds fish but can be a tad inconvenient as you will catch or touch weed but keep your files above the weed beds.
Between our fishing, we had breaks for coffee, lunch and some good and entertaining conversation. It's nice to break the fishing up, as when I'm competition fishing I rarely finish my lunch, too busy fishing.
We moved to Herons and continued with the same method, with the odd change of line and caught fish here too, but it was not as good as the other areas. It was time to move back to Villice before going home. I had changed to a floating line and Ron was on the Snowbee buzzer tip still ion similar flies but he had changed his Booby for a Candy Fab a good move it turned out to be, We both had offers and follows here. The weather was still the same as it had been slowly raining since 1 pm.
The last hour proved manic as the fish just switched on and we were getting follows and takes more frequently now. Both of us catching steadily on Nymphs, it was great to fish Nymphs. I love this method as it's relaxed and the takes are similar to buzzers, savage. It was a pity as it was time to go, I was driving back north and dint wants to be too late.
The best Flies
Crunchers- Black Uv, Nemo, Nymph-Diawl Bachs, Organza, Red Holo Rib, Fabs /Boobies-Olive Booby, Sunburst Fab, Candy Fab, Tequila Fab.
In the afternoon we had the rain that was predicted, constant all afternoon long and the fishing became more testing.
Chew Valley with Blagdon is a must if you enjoy fly fishing using Nymphs, Buzzers, Dries it can also fish well pulling so caters for all. The distance should not put you off as the fishing will more than compensate for this inconvenience.