Fishing Dry Flies

As the weather has been unpredictable, it's been difficult to plan the odd fly fishing trip where possible. I spoke to a friend of mine who was keen to have a day out on the boat on Draycote Water. When the opportunity presented itself so we had a break in the last week of July 2021. It was no time to go, even though not perfect, we decided it was worth the risk. I love my Buzzer, nymph fishing but have over the years developed a real love and passion for Dry Fly fishing. There is nothing like a day fishing just dries, the visual effect and challenge of enticing trout onto a dry fly. Simply Magic.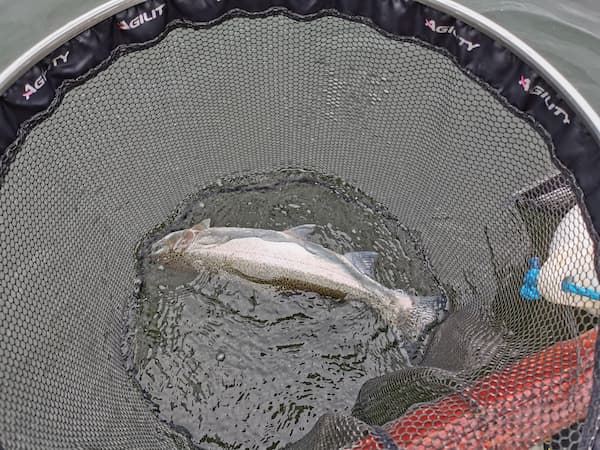 The Venue
Draycote Water is one of three fisheries run by Ifor Jones, Eyebrook and Thornton being the other. The jewel in the crown has to be Draycote, a water that lends itself to a rich underwater ecosystem. It fishing well on most methods but is famous for its buzzer. nymph and dry fly fishing. It is set in the village of Dun Church just outside Rigby town and is about a 2hr journey for me. The staff are dedicated, professional and helpful,
Drive There

This is one of the accessible places for me on the Fly Fishing scene, some 110 miles. drivable in about two hours and fifteen minutes. For me coming from Manchester, it's a dash up the A56, M6 and then onto the country bypass and to Dun Church. I usually leave around 5 am but as it was Sunday and my Friend Waseem was driving we decided on a start of around 630am. One of the good things about driving on Sundays is the lack of traffic and we had a straight run through to Dun Church with the Costo stocking stop on-way. We took it easy, paid up and had the customary chat with the fishery staff who soon put us right and said dries was a way to catch, Perfect, I was buzzing with anticipation on fishing my dries.
Tactics and location

The weather was good with some cloud cover a slight gentle breeze just right for our days on Dries or even pulling. We loaded up the boat, thanks to Waseem who carried most of my stuff to the boat. I got my life jacket and we got settled in the boat and had a quick chat re tactics. We both decided to start on dries and we headed off towards the dam and tower area. We could see a few boats in the area and across to rainbow corner. We looked to target this area and if not successful to have long drifts through the middle of the water.
I was going to fish two dries, as usual, a bobs bits and a hopper, they rarely fail me.
Fishing

There were quite a few boats but we started at the Dam wall near the Tower towards the Rainbow corner. Having worked in this area, we had some action but it was not prolific. We covered these areas with the odd fish being raised but nothing caught as we got near the island, I had a little bit of interest in the two flies set up. I left the flies following a swirl and then the perfect dry take and I was in business. . I landed this trout it was around 3lb fin perfect and dispatched it as Waseem wanted some fish and we both had tickets of 6 kill.
A lunch and few tea breaks later we decided to fish past the tower towards the sailing club, I had seen the odd fish move some was alert to any action. True enough, a trout took the fly sub surface (top dropper a Claret Bits) and a tough fight ensued. I landed that and we had a more consistent session in the afternoon. Waseem stuck to dries and it was great to see him catch fish. It was also good to see his frustration that we have all shared with dry fly fishing, the missed takes, just as you switch off momentarily the trout strike.
Something kept saying washing line as any fish seen were high up, I decided to change my set-up to a three fly washing line rig, using a 12ft slow tip line. The flies were Sunburst Fab, Nemo Cruncher and a Red Holo Diawl bach.
The action on this was more prolific and we soon put our 12 fish take limit in the boat. I continued and Waseem also joined in on a washing line set up. We were now catching more steadily across all areas and this was by far the better option.
We had an action-packed day with some memorable fish caught on both Dry Flies and the washing Line. It was time to go as we had stayed beyond our original cut off of 530 pm, it was almost 645pm.
Best Fly, line and Flies

Best Lines Floaet for Dries, 6ft or 12 ft slow tip line for the washing line set up. Best Flies, Dries, Bobs Bits, Hoppers, Shiomans, Foam Daddy. Nymphs were Red Holo Diawl Back, Orange thorax phesant tail cruncher.
Try this water and you will not be disappointed.