Fly Fishing 4 All is designed to help not just new entrants to the sport but also existing anglers. After all, fly fishing is a sport that offers enjoyment, and it is beneficial for your wellbeing.
You will get an insight into the fundamental areas of the sport, and you can expect it as a one-stop site that covers an array of fly fishing topics.
We also offer honest reviews and advice on equipment and suppliers based on real experience. And of course, you will find blogs on visits and related questions on crucial things such as cost tackle, techniques, venues/ fisheries, flies, etc.
Fly Fishing 4 All, hopefully, can be a site where you can interact with its host who has a wealth of experience of the sport of fly fishing. A fly fisherman who can also access others in answering any issues you may have.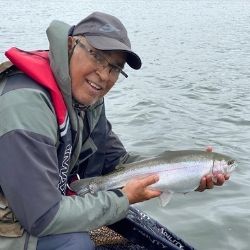 And he is me, Yousef Dar. A Mancunian with an avid interest or fascination with sports. I have enjoyed many sports and Fly Fishing is the main focus at present.
The whole family and friends have at some stage fished. I have also been committed to competitive badminton and squash at a league and county level. I have played golf, and Alpine skied to mention a few other sport pastimes.
My entry into fly fishing was late on and through a work colleague who was a real gent. He regularly went and shared his stories with me. He continued to try to get me out that eventually, we managed a fly fishing day out. Since then, I've never looked back.
I flirted unsuccessfully with Salmon fishing. I even travelled to Ireland without any real success. So I feel trout fishing was more accessible, affordable and successful.
Now, I'm committed as a loch style match angler, and also fish rivers in the winters. Although this has been less frequent in recent years. 
Over the years, I have represented the England Police Team at the Home Internationals. But have not yet managed to get a full cap. So this is now an aspiration that drives me on.
My preferred method of fishing would be the washing line, straight-line nymphing or buzzer fishing and also dries. This is probably the method that really rocks my boat. And I have also learnt to fish the sinking lines, commonly known as pulling or stripping. A technique that is the bread and butter of match anglers but probably not as fulfilling as the others I have outlined.
This blog is a means of sharing my journey to help other anglers, aspire fly fishing anglers and entice new anglers entering the sport. Expectantly.
Also because the sport needs new blood. As most fly fishermen and women are on the wrong side of age or life. So we badly need this to change.
Tight lines.